Saturday, March 20, 2010
Audio interview with Richard Grossman, a man that lectures widely on issues of corporate power, law and democracy. He is co-author of Fear at Work: Job Blackmail, Labor and the Environment and Taking Care of Business: Citizenship and the Charter of Incorporation as well as former co-director of the Program on Corporations, Law and Democracy and co-founder of the Daniel Pennock Democracy Schools at the Community Environmental Legal Defense Fund.
Further Reading:
Saturday, March 20, 2010
Audio interview with Kevin Alexandar Gray, a writer and activist living in South Carolina. He managed the 1988 presidential campaign of the Reverend Jesse Jackson in the state. He is the author of Waiting for Lightning to Strike: The Fundamentals of Black Politics and The Decline of Black Politics: From Malcolm X to Barack Obama.
Further Resources:
Friday, March 5, 2010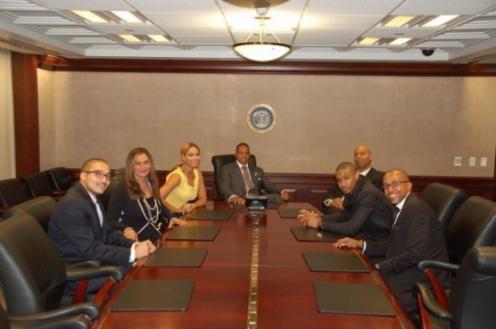 Further proof that Shawn "Jay-Z" Carter doesn't lie on his records, he did go to the White House and he does have "Obama on the text."
Interestingly enough in these photos it shows that he also brought along Beyonce, her mother, RNB singer Trey Songz, and manager Kevin Liles
Thursday, February 18, 2010
In politics, as in everyday life, a convergence of circumstances can prove fateful -- gleefully so for the winners, and maddeningly unfair in the view of the defeated. This is one of the many observations one may divine from John Heilemann's and Mark Halperin's newly-released book on the 2008 U.S. presidential race, Game Change: Obama and the Clintons, McCain and Palin, and the Race of a Lifetime.
Friday, January 8, 2010
Last week I talked about a few stories from 2009 that didn't receive the attention that perhaps they should have. This week I'll take a look forward and discuss a few of the events likely to shape global politics in 2010.

Tuesday, January 5, 2010
The CIA investigation of the U.S. Army Major Nidal Malik Hasan's November 5 murder of 13 soldiers at a military base in Fort Hood, Texas, and the December 25 failed attempt by a Nigerian man, Umar Farouk Abdulmutallab, to detonate a bomb inside a 300-passenger plane in Detroit has revealed links between these terrorists and a spawning Al-Qaeda network in Yemen. Major Hasan reportedly exchanged e-mails and sought spiritual guidance from a radical U.S.-born Islamic cleric, Anwar Al-Awlaki, who grew up in Yemen. Mr. Abdulmutallab said he received training and explosive devices from the Al-Qaeda operatives during his four-month stay in Yemen last year.
Thursday, December 31, 2009
As 2009 fades into history the urge for anyone with access to a media outlet is to compile some sort of year-end list. I am not going to put together a list of top stories or year end awards, but in the column below I am going to highlight seven stories that I think deserved more attention than they received, either because they challenged the conventional wisdom in international affairs, help to explain where our world is or where it may be heading, or, in the case of the science story at the end, because it is just too bizarre not to note. So without further ado, here is my humble year-end collection:


The US Navy, Climate Change Believers
Thursday, December 17, 2009
"I want to leave as a distinguished guest, not as political refugee like the interim government wants." (The deposed Honduran President, Manuel Zelaya, on his plans for leaving Honduras, December 10, 2009.)
What seemed last June as a brisk ouster of the Honduran President, Manuel Zelaya, has turned into a protracted saga that splintered the Organization of the American States (OAS). The majority of the OAS nations has pushed for Mr.
Thursday, December 3, 2009